Partnering Your Success with Alliance.
Think of us as a valuable business partner – a virtual extension of your practice. We focus on improving your bottom line and can customize a medical billing solution to fit your needs – all while keeping your practice in control of its receivables.

Medical Billing Services
We can remotely access your practice management software to perform billing functions directly on your system. If your practice doesn't have that technology today, we can suggest an ideal solution.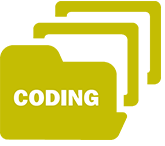 Medical Coding Services
Our medical coding services are provided by Certified Professional Coders using CPT, ICD-10, and HCPCS codes to maximize reimbursement.

A/R Recovery Services
To help your practice maintain its financial health, we provide accounts receivable recovery services to assist your practice in collecting unpaid claims.

Consulting Services
By performing a workflow analysis, we can streamline your revenue cycle process – from the front office processes all the way to the paid claim.